Hello folks! You know what? It's my blog anniversary today! :-D Not that it's a big thing, but I did this 'A Hundred Facts About Me' thing for this event. Even though I only came up with 50 facts.
Here's the outfit I had on today. I think it's really cute, even if I say so myself. :-D But I can't help loving that 50s blouse. I'm wearing H&M capri pants, a pair of ballet flats, and my Maxine. The lovely scarf is unfortunately my mum's.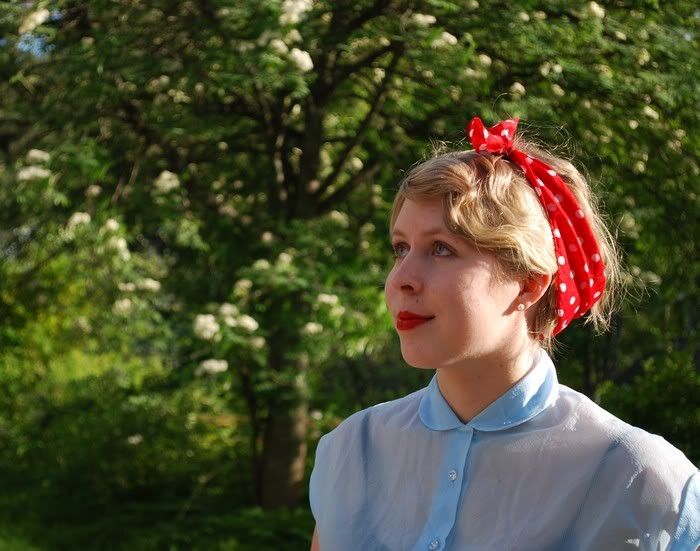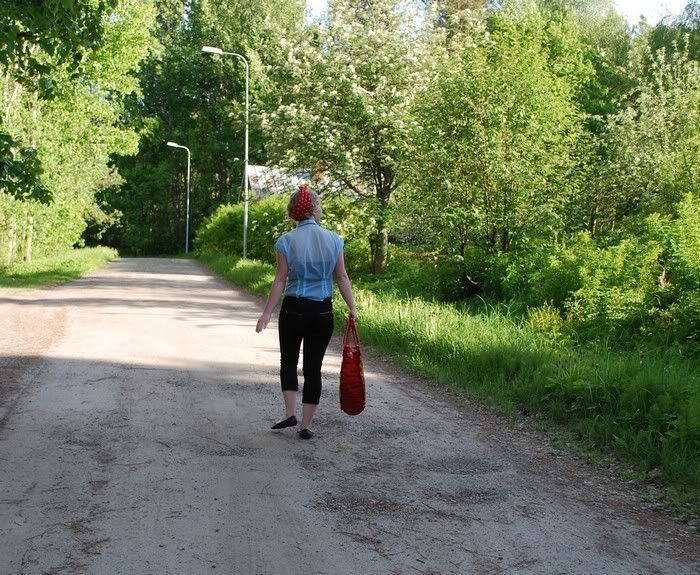 That's not my house! My brother loves that little house, it's for sale, actually. Too bad he's only 15 years old, he can't buy it!
So, here are my facts. If you have a blog, I'd like to read your Hundred Facts. But, if you don't have a blog or don't want to do this, I'd be more than happy if you left some kind of comment about YOU. I want to learn something about my readers! Especially from those who never leave comments. At least Google Analytics says that after every blog post there are far more readers than only the amount that leaves comments. So, don't be shy, and please introduce yourself!
1. I often feel bad about things other people would never feel bad about. Like in an 'aww' way.
2. If there's a confectionery product I like very much, they will stop manufacturing it soon. :(
3. I will go to London in June!!!
4. I love a certain little girl a lot.
5. She used to call me Nanniina, but now she has learned to say Anniina. That makes me sad!
6.
I use exclamation marks too much. I would like to use them about after every sentence, but I try to control myself.
7. I only buy designer clothing when the price is discounted.
8. My dog is very cute and a little pathetic when he comes down the stairs.
9. Two years ago, this time of the year, I had just got my first IVANAhelsinki bag.
10. I had also seen the film Les Choristes for the first time, and I was crazy about Jean-Baptiste Maunier and his singing voice.
11. Monopoly is the best board game.
12. One of my favourite French words is parapluie.
13. I am easily depressed if I have an idea for a photograph but don't know how to create it.
14. Other people's exceptionally beautiful photos depress me sometimes, too.
15. I find Holden Caulfield (from the Catcher in the Rye book) a fascinating guy.
16. It annoys me a little that the Beatles outshines many other 60s bands. There are so many as good, or better (in my opinion), bands as the Beatles.
17. The only person with whom I can talk about 60s music is my uncle. And we don't even see that often, so I really need someone to chat with me!
18. Simon & Garfunkel's A Poem On The Underground Wall is perhaps the most beautiful song ever, the lyrics, the singing, everything is perfect.
19. I don't usually like songs because of their lyrics. The melodies mean more to me.
20. But the few Finnish bands I listen to have great, a little strange lyrics. I can't listen to any mediocre babble lyrics in Finnish.
21. I'm good at baking buns. Come here and I'll bake them for you! :-)
22. If I ever get children, and a girl, I'd like to name her Fanny. But I can't because of this. Whoever came up with these stupid other meanings ruined a beautiful name!!!
23. Our old collie was actually called Fanny.
24. I'm desperately trying to reach 10,000 plays on last.fm.
25. I want to find a place like Hester Gray's garden in some forest. Hester Gray's garden is a wild garden of an abandoned house in the Anne series by L.M. Montgomery.
26.
But there aren't, at least here, forests where flowers grow. Except for one place where there are Lilies of the valley.
27. In the summer I would like to grow a rose passage, like a little doorway to our garden.
28. I want a Ford Model T from the early 1900s.
29. I still wait for my letter from Hogwarts. Hahaha!
30. I love Andean music (music from South America, from the Andes, naturally.)
31. I hardly ever cry when I watch films.
32. But when I watch Heartbeat and a main character dies, I CRY.
33. My enthusiasm for 60s music originates from Heartbeat.
34.
La vita è bella (Life is beautiful) is one of my ultimate favourite films. (I even cried when watching it.)
35. I'm terribly afraid of bears.
36. I dream of my own Gilbert Blythe/Teddy Kent person (again L.M. Montgomery) with the looks and accent of Ed Westwick, Jude Law, or Gregory Peck.
37. Rilla of Ingleside is my favourite book of the Anne series.
38. Walter Blythe is my favourite of Anne and Gilbert's children. He is fascinating, just like Holden.
39. I love SWINGING! (edit: ah, I didn't have a clue of the other meanings of this word..)
40. I'm already waiting for the next time I go jogging with my friend, because we go swinging each time we jog.
41. This friend is half American, and I will go to the US with them the next time they go there.
42. Salmon is the main reason for not being able to become a vegetarian. I love salmon.
43. I like Disney classics a lot.
44. In my opinion this is the best thing ever (I read it in an entrance exam book): Some children in Sunday school thought they were singing about a cross-eyed bear called Gladly, when they really sang "Gladly the cross I'd bear." Isn't that just hilarious!
45. This thing in the Diana camera manual was close second:
'8. You don't have to know beforehand what you've captured on film..
9. ...and you don't necessarily have to know afterwards, either.' I think that 9. will be my destiny with Diana!
46. With this friend of mine with whom I'm going to London and to the US, we have this sort of.. well, come to think of it, a roleplay thing. We are two sisters belonging to a noble family, living in late Victorian England. My name is
Elisabeth Ninette Wulfthryth Ambrose-Myerscough and my sister's is Abigail Clairence Lynechette Ambrose-Myerscough. Aren't our names just beautiful! :D We have a servant called Ida Rottenham. And yeah, I'm soon 19 years old...
47. My ex-boyfriend thought that the Minna Parikka Ginger bag is ugly. If I ever get a boyfriend again, he had better not to think it's ugly!
48.
I love Back to the Future films!
49. I know I just complained about the Beatles. But I have to say that 'A Hard Day's Night' is one of my favourite films. I just saw it the other day and I loved it!
50.
My younger little brother and I always speak really ungrammatical Finnish. We make intentional mistakes when we conjugate words, and I love our language.