This year I have come across a great many new things. I've met great people, both in Finland (hello to my Fintage friends!) and abroad (hello to my friends in Paris!), found many lovely bands, such as Pony Pony Run Run, Hurts, Mumford & Sons, Chisu, The Kooks, Beirut.. Life's been mostly good, sometimes marvellous, it's the little things that make life great.
What I should still learn to do is appreciate myself (hopefully you feel I appreciate you, though, because I do :). I mean, for instance, not being ashamed of your opinions or things you like. I like thrifting, 60s music, vintage dresses, old films, Disney classics, Charlie McDonnell, Heartbeat, Gossip Girl, Robot Unicorn Attack, Harry Potter books, Inception, Jude Law, good food, old Christmas carols, watching
pointless videos
on YouTube, L.M. Montgomery, Fanny & Alexander, ABBA, Moomin muggs, Around the World with Willy Fogg, hairbows, Minna Parikka shoes, drinking tea at the Murphy's, doing crazy stuff with my brother, Nyt-liite ("Päivi Räsäsen mielestä kirkosta eroaminen on homojen hommaa"), Katharine Hepburn, and
what is there to be ashamed of in all this?
I'm full of people saying what one should like, or that you're so embarrassing in doing this and that. Who cares if you're a little silly sometimes? I'm going to do my best to stop caring about other people's opinions so freaking much, and I can tell that this is a big thing for someone who's pretty much never had the courage to just be who they are and standing proudly behind their own opinions, that's what everybody should have the right to.
Therefore I proudly present my own stuff from 2010.
Just click on the photos if you want to see them on Flickr.
And then about something I've learnt to do, sewing! These are all my creations.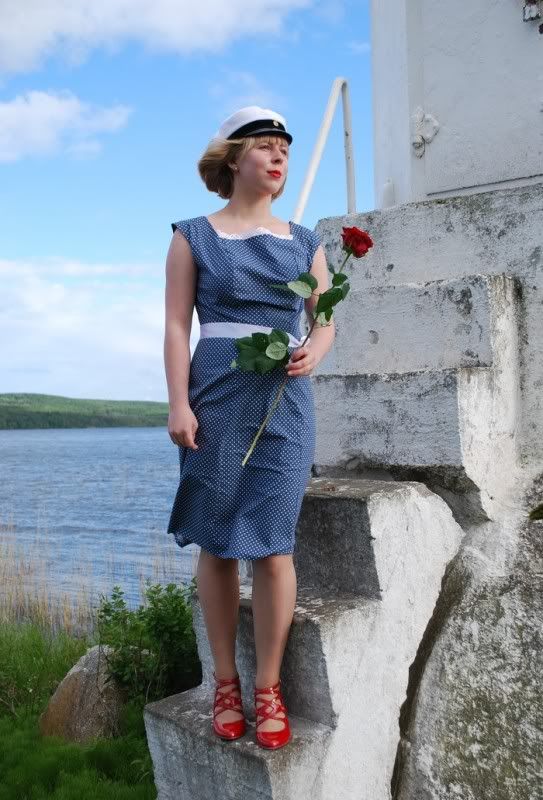 Then I wanted to ask something. In general, do you like to see my photography, or would you prefer to see more outfits? At the moment taking outfit photos is a bit difficult, so I'm kind of forced to show you mostly my photographs.
If anybody is interested, I'm selling some vintage dresses on Huuto.net:
That's pretty much all I wanted to say this time. Happy New Year to everybody!